<![if !vml]>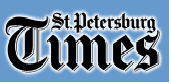 <![endif]>
Presidential, in a casual sort of way
A Tierra Verde company offers to pay $4-million to deck out George, Tom, Teddy and Honest Abe in its sun visors.
By HELEN HUNTLEY, Times Personal Finance Editor
Published May 20, 2006
---
South Dakota summers must get awfully hot for George Washington and his stony-faced companions up there on Mount Rushmore. A couple of St. Petersburg area entrepreneurs think they have just what the quartet of ex-presidents needs: sun visors.
Richard Lawrence and Clare Hudson, who run PROSHADE from an office in their Tierra Verde home, are offering the National Park Service a rather outrageous proposal: $4-million if they can deck out the presidents in PROSHADE visors for the summer.
"We thought it would be a great gesture to try to give something back," Lawrence said. He said the money could be used to help restore the monument, which was completed in 1941.
Of course, the project also would generate lots of press for PROSHADE. The 3-year-old private company makes visors that can be attached to sunglasses, avoiding the need for a band around the head. Hudson came up with the idea, Lawrence said, because "she doesn't like hats and neither do I."
The visor has a pocket that can be used to hold money or keys. Take it off and it becomes a case for sunglasses. Drop it in the water, and it floats. Made in China, the visors come in a wide variety of colors and patterns and are sold through sports and optical shops and online retailers for $20. Lawrence said PROSHADE sells and is working on a Corona beer visor and other licensing deals.
Lawrence, 51, a former sales and marketing consultant, acknowledges that he hasn't worked out the logistics of installing visors on 60-foot-long granite faces. He's waiting, he said, until he can get the park service's approval. He assumes, he said, that it will cost a lot.
"The company is in a very solid financial position," he said, declining to reveal its sales.
The park service did not respond to our inquiry, but we're guessing some people might object to altering the monument, even temporarily. Lawrence has an answer to that:
"We tend to look at the PROSHADE as something that enhances someone's appeal, so we don't really think of it as a defacement," he said. He compares the idea to environmental artist Christo's projects, such as the orange gates he installed in New York's Central Park.