Monday, July 17, 2006 | Updated at 2:45 p.m.
Diversified local surf shop in line for Best Beach Shop recognition
Tuesday, July 11, 2006
At one time, surf shops across the nation catered specifically to an exclusive market — people who could actually ride waves.
Surf craft and associated supplies such as leashes and wax were these stores' bread and butter, while accessories were something of a retail afterthought.
But all that changed around the 1970s and '80s when the stereotypical image of surfers being doped-out slackers changed to one of health- and environmentally conscious athletes with a rather hip fashion sense.
In came lines of clothing, sunglasses and watches, and soon it was just as hip for country bumpkins and city slickers to wear surfing gear and accessories, even if buyers thought "carving" had something to do with food.
No matter. They were radiating the cool image.
And they still are, to the tune of propelling a multi-billion industry a year in surf-related products.
In that mix on Marco Island is Jet Set Surf Shop, which Shane Sparks has operated since 1988. He diversified as surfwear and accessories became more popular.
Recently, the store received a boost by being nominated for "Best Beach Shop" by the Proshade company in a national promotion that will culminate on Labor Day with regional winners being announced.
Proshade spokesperson Tamara Ricaforte said Jet Set was nominated for having a huge selection of beach gear as well as friendly service.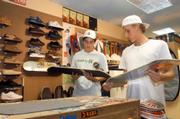 Photo by Quentin Roux
She said Proshade, based out of St. Petersburg, produces a multi-functional visor that is wind resistant, floats and can secure sunglasses or eyeglasses.
"It is popular with all types of sportsmen and women," she said.
The contest runs through the summer and aims to identify "Best Beach Shops" within classic beach towns throughout America, Ricaforte said.
"Secret shoppers" will visit the nominated stores to assess criteria such as distinctive store design, atmosphere, merchandise assortment, staff as well as connection with the surrounding beach community.
The regional winners will receive a plaque and a supply of Proshade products.
Sparks originally diversified his store because Marco Island's beaches don't dish up terribly consistent surf. Hence, surfboards are just one of his lines, instead of his main line.
Comments


Poll
Note: This is not a scientific poll. The results reflect only the opinions of those who chose to participate.
Blogs