<![if !vml]>

<![endif]>
Thursday, May 4, 2006
Gadgets & Gears
Keep an eye on shades
By Linda Stahl

lstahl@courier-journal.com <mailto:lstahl@courier-journal.com>
The Courier-Journal
Sunglasses are an important component of eye care, but it's so easy to lose them on the water.
A three-in-one product called PROSHADE could help. It's a floatable visor, eyeglasses case and lanyard.
The visor, which provides additional screening for your eyes, can be attached to your eyeglasses while you wear them.
In seconds, the visor, while still attached to your glasses, can be turned into a padded case that will protect your lenses from scratches. The lanyard around your neck keeps them close.
If you're boating and drop your visor with glasses attached in the water, they'll float. If the glasses are stored in the visor that has been turned into an eyeglasses case, it too will float.
The PROSHADE visor/case/lanyard retails for $14.95 to $19.95.
It is expected to reach optical shops and stores that cater to boaters and beachgoers soon. A representative said PROSHADE should be available in the Louisville area soon and is sold at Lake Cumberland State Dock, Jamestown, Ky.
Meanwhile, check it out on www.proshade.net . You can buy PROSHADE online, too.
<![if !vml]>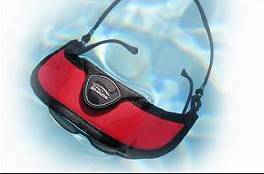 <![endif]>